Areas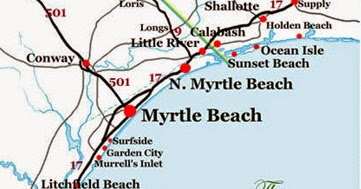 The "Grand Strand" is a 60 mile stretch of sandy beach in the Northern part of Coastal South Carolina. It comprises some of the finest beach and vacation property available today in the United States. Locals experience mild winters with spring and fall seasons at room temperature. The area offers a low cost of living where both families or retirees can live comfortably.

There are also numerous property types to choose from and at every price point. You can live in one of many golf course communities, on the waterway, oceanfront or ocean view, or even have a hobby farm.

One of the more popular neighborhoods for young families is Carolina Forest, just outside of the city on Highway 501. Carolina Forest boasts one of the highest rated school systems in the south – one of five SC district schools that surpasses the national SAT average.

North Myrtle Beach offers several of the best golf communities around, such as the Barefoot Resort, or Tidewater. Just a bit further north is Little River, with condos galore as well as beautiful homes on the golf courses.

Surfside Beach, Garden City, Murrells Inlet, and Pawley's Island offer a non-tourist lifestyle just minutes away from the many great restaurants and live shows that draw vacationers to the Grand Strand by the millions. Both taxes and traffic are lower in these little coastal townships and unincorporated communities.


Myrtle Beach Condos for Sale
The most popular properties we have are our luxury vacation condos. With literally thousands to choose from, you can buy a small beachfront efficiency condo from as low as $50,000 – up to a million dollar magnificent penthouse with high end upgrades and luxury interiors. I can find you a residence or vacation home that can change your life.